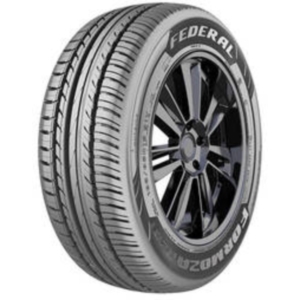 FORMOZA AZ01 RFT
Features & benefits
Brand new asymmetric passenger car tyre from Federal, featuring great performance, combined with unprecedentedetly low noise and good level of wet grip. AZ01 is a result of extensive research and testing of new tire engineering solutions, compounds and pattern designs, aimed at achieving best possible combination of performance, comfort, security and efficiency.
Outside- Pattern with well-balanced rigidity makes pressure on contact patch spread equally, providing excellent dry surface handling.
Inside- Curved groove walls are designed to aide shoulder water-directing grooves in water evacuation, providing stability and safety on wet roads at high speeds.
Central part of pattern is designed to increase resistance to hydroplaning.
Brand new noise-reduction design- 5 differently formed blocks are placed in optimized disorder fashion to reach lowest noise level.
New wide outer profile design, while turning, not only allows to spread car weight pressure on contact patch more evenly, but also expands contact patch surface, improving handling.